Descobertas e entendimentos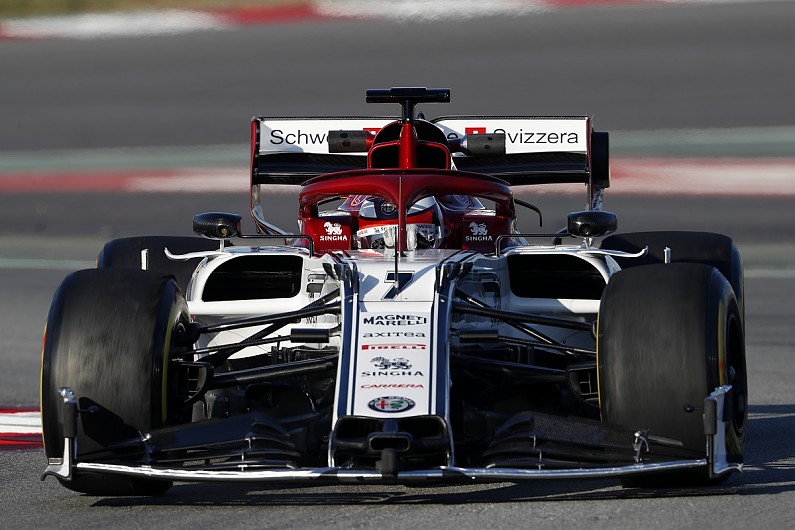 Raikkonen starting to figure out Alfa Romeo's 2019 F1 car set-up
Kimi Raikkonen says Alfa Romeo tried "a lot of things" on its Formula 1 car on Wednesday as he experimented with its set-up properly for the first time.
Raikkonen finished the second day of the second test fourth-fastest, as Alfa continued its solid start to pre-season testing at Barcelona.
The 2007 world champion, who has joined the rebranded Sauber entry from Ferrari, admitted it was "a bit unknown" how testing would go with his new team.
"When we got the car, it's been working well and been really nicely balanced," said Raikkonen when asked by Autosport if Alfa's progress had exceeded his expectations.
"Last week we didn't really do a lot of set-up work but we tried a lot of things today, just to see what happens when we change parts.
"So far, it's OK. I don't know where we are. It's guessing from our side, we only know what we do."
Raikkonen said Alfa would have an "endless" number of things to work on if it was not restricted to only two more days of running.
The team has been tipped to challenge at the front of the midfield battle, which is expected to be even tighter than last year.
It faces competition from the works Renault team, Haas, Racing Point, Toro Rosso and McLaren in the fight behind Mercedes, Red Bull and Ferrari.
When asked what he wanted to learn on his final day in the car on Friday, Raikkonen said: "There's always a lot of things and we always run out of time every year, but that's the same as everybody.
"We'll try to put things where we think it's best now, do our programme, and see what we get in Australia.
"Every circuit is different, especially Australia, it's a street circuit.
"So we need to have an idea if the set-up is not where we want, what are we going to do.
"That was really what today was for, to try to figure [that] out."
Fonte: www.autosport.com
Como eu sempre digo, os testes servem para as equipes entender os carros e toda a informação coletada nestes dias funciona como um registro para estudos posteriores.
Tudo que importa é preparar o carro da melhor forma possível para a estreia na Austrália e não ficar focado apenas em fazer tempos rápidos.
Acho que pelo o que Kimi falou eles estão bem encaminhados no entendimento da configuração do carro e o que está e não está funcionado.
Até sexta ainda teremos mais informações para analisar um pouco melhor.